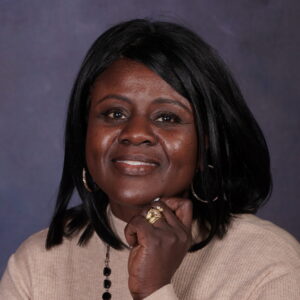 Dr. Gertrude B. Thomas, DNP, MSN, BSN, RN CNML
BOARD MEMBER
Dr. Gertrude B. Thomas, DNP, MSN, BSN, RN CNML was born and raised in Liberia, West Africa. She migrated to the United States in 2000 after fleeing 10 years of civil conflict from her country of origin.
She started her Nursing education at Minneapolis Community and Technical College after gaining Asylum in the United States.
Dr. Thomas worked as a nursing assistant, embracing each step of nursing school to become an LPN, an RN, and moved on to earn a Bachelor of Science and a Master of Science in Nursing degrees from Bethel University. She served as Adjunct Faculty at Bethel university while working as a Critical care nurse at Hennepin Healthcare, A level -1 Trauma Center in the
Midwest.
Her vision to influence a diverse nursing workforce led her to seek a Supervisory role at Hennepin Healthcare as she worked towards earning her Doctor of Nursing Practice degree with a concentration in Health Innovation, & Leadership from the University of Minnesota.
Dr. Thomas has 16 years of nursing experience that spans across various levels of Acute, Subacute, and Long-Term care. She currently works as the Nurse Manager for Adult 6 Med Surg Unit at the University of Minnesota Medical Center, a position she embraced upon graduation with her DNP in Nursing leadership to establish and lead a new unit.
Dr. Thomas is a member of the American Organization of Nurse Leaders and a member of Sigma Theta Tau International Honor Society. She enjoys writing, music, spending time with family and nature walks.