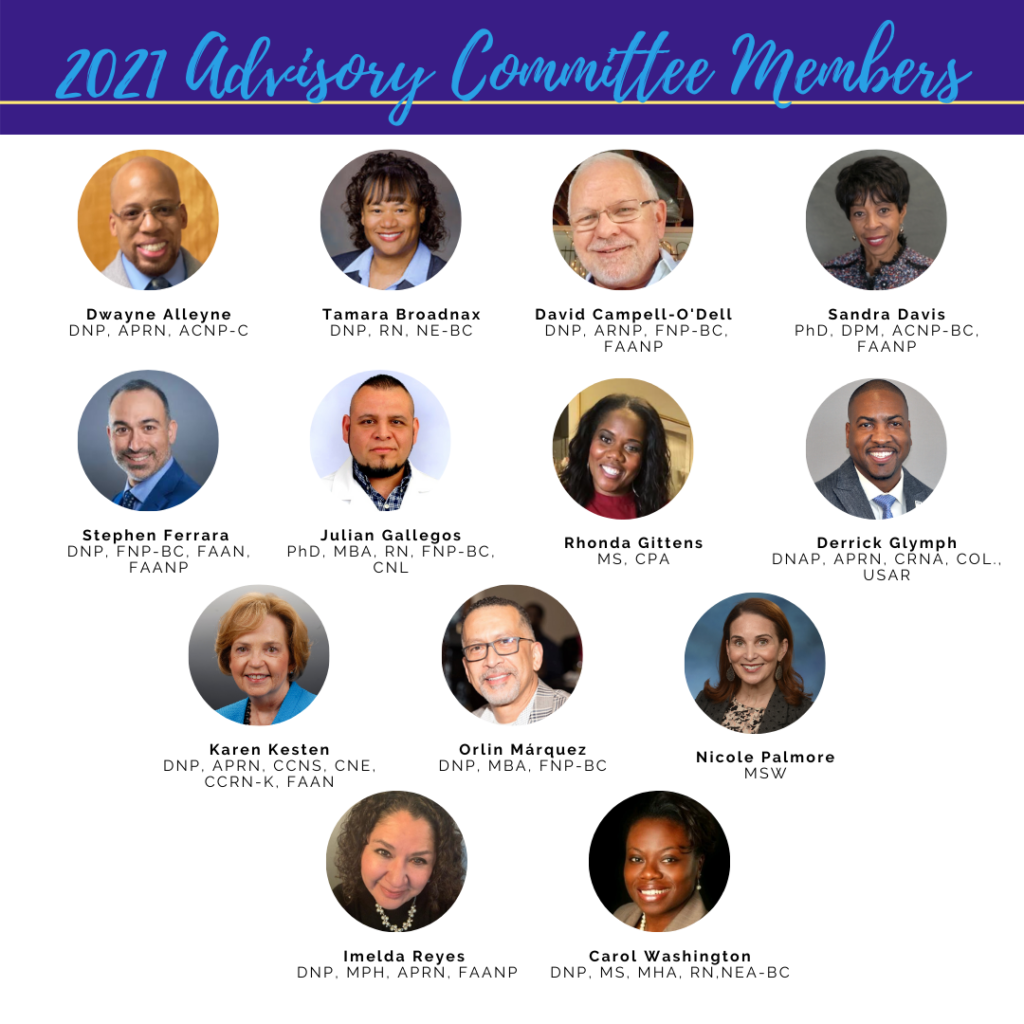 Dwayne Alleyne, DNP, APRN, ACNP-C
Dr. Alleyne is a native of Brooklyn, New York. He currently resides in Columbia, SC and is a full-time Clinical Assistant Professor at the University of South Carolina College of Nursing. He received his Bachelor of Science in Physiology from Michigan State University, a Bachelor of Science in Nursing (BSN) from Adelphi University and Master of Science in Nursing (MSN) and Doctor of Nursing Practice (DNP) from the University of South Carolina. Dr. Alleyne has been in the field of nursing for over 20 years, 12 of them as an Acute Care Nurse Practitioner at Prisma Health and the Columbia VA Health Care System. He is the co-founder and current Executive Director of the non profit organization Capitol Nurse Practitioner Group which is one of the largest networking NP groups in the state of South Carolina. He is passionate about mentoring students of color and helping them realize their potential to excel in the field of nursing. He is also concerned about the inequity of representation in the nursing field particularly with black men with advanced degrees. He hopes his various positions will be a positive influence. Dr. Alleyne has been a strong advocate for communities of color as he has recently given several talks on healthcare disparities significantly impacting this community.
Tamara Broadnax, DNP, RN, NEA-BC
Tamara Broadnax serves as the President of the Central Virginia Chapter of the National Black Nurses Association (CVCNBNA).  The Central Virginia Chapter extends around a 100 mile radius of the City of Richmond.  She is a board-certified Nurse Executive-Advanced, and she has expertise in leadership, and new program development and implementation.  Clinically she has served as a Nurse Manager, Nurse Clinician, VCU School of Nursing Adjunct clinical instructor, Program Manager, Department Director, Nursing Director, and Consultant.  She has worked at health systems in the federal and private sectors and has served on a number of boards and committees.  She currently works in the Clinical Command Center at the Richmond VA Medical Center and sits on the Virginia Nurses Association's Virginia Nursing Legislative Alliance (VNLA) and Diversity, Equity and Inclusion (DEI) Councils.
David Campbell-O'Dell, DNP, ARNP, FNP-BC, FAANP
Dr. Campbell-O'Dell earned his DNP degree through the University of Tennessee Health Science Center in Memphis when there were only 7 DNP programs in the country. His career has taken him from acute care clinical and administrative positions, to community-based service organization, to working with the insurance industry, to later evolving into higher leadership and clinical roles. His clinical interests as a Family Nurse Practitioner is neurology and neurocognitive disorders and family/community dynamics. As an educator he has helped to develop undergraduate and graduate nursing programs including first-degree RN, RN to BSN, nurse practitioner, nurse administrator, and nurse educator. He has been a part of developing numerous DNP programs and has either taught or has contributed as an invited guest lecturer in programs around the country. 
As president of Doctors of Nursing Practice, Dr. Campbell-O'Dell is honored to work with students, graduates, faculty, and key stakeholders in academia, practice, policy development, and finance to promote and enhance the doctoral prepared nurse to improve healthcare outcomes. He enjoys working in paradise (Key West) teaching online while maintaining a small clinical practice.
Sandra Davis, Ph.D., DPM, ACNP-BC, FAANP
Dr. Davis is an Associate Professor and Assistant Dean for Diversity, Equity and Inclusion at the George Washington University School of Nursing. Her research interests include health inequities and social and structural determinants of health. Dr. Davis was the Principal Investigator on a Photovoice Project; "The Social Determinants of a Heart Healthy Community" that was exhibited at the Smithsonian National Museum of African American History and Culture in Washington, DC. Dr. Davis recently co-published an article in Academic Medicine entitled Let's Talk about Racism: Building Structural Competency in Nursing. Dr. Davis began her career in podiatry, where she spent years in private practice before transitioning to a career in nursing. She has been in academia for over 20 years serving in both faculty and administrative roles. Dr. Davis is board certified as an Acute Care Nurse Practitioner and is Past President of the Nurse Practitioner Association of the District of Columbia.  She is an AACN/Wharton Executive Leadership Fellow, a Leadership for Academic Nursing Fellow, and a Fellow in the American Association of Nurse Practitioners.
Stephen Ferrara, DNP, FNP-BC, FAAN, FAANP
Dr. Stephen A. Ferrara is an actively practicing Nurse Practitioner, executive, and faculty member. He combines years of clinical experience along with health policy development to increase access to nurse practitioner-partnered care in New York State by serving as executive director of the Nurse Practitioner Association New York State. He is Associate Dean of Clinical Affairs and Associate Professor at Columbia University's School of Nursing where he leads the nurse practitioner primary care faculty practice. He is interim executive director of Jonas Nursing and Veterans Healthcare and the editor-in-chief for the Journal of Doctoral Nursing Practice. 
Dr. Ferrara holds a passion for health care technology and integrating evidence-based practice into daily practice. His doctoral work examined the impact of group medical visits for patients with type II diabetes and how this intervention led to better health outcomes. He has been nationally recognized for his work in health policy for increasing access to patient care across New York State and is a fellow of the American Association of Nurse Practitioners, National Academies of Practice, the New York Academy of Medicine, and the American Academy of Nursing.
Julian L. Gallegos, PhD, MBA, RN, FNP-BC, CNL
Dr. Julian L. Gallegos is a board-certified Family Nurse Practitioner (FNP) and Clinical Nurse Leader(CNL) who has served in different nursing capacities over the past 18 years. Dr. Gallegos is aUnited States Air Force veteran, serving 8 years active duty as an officer and nurse. He has experience in medical-surgical nursing, labor and delivery, stroke care, diabetes management, nursing leadership, family practice, general urology, and men's health. He currently is a full-time faculty and DNP Program Director at Purdue University – West Lafayette School of Nursing.
Derrick Glymph, DNAP, APRN, CRNA, COL., USAR
Dr. Glymph is the Enrollment and Global Initiatives Coordinator and Clinical Associate Professor in the Nicole Wertheim College of Nursing and Health Sciences, Graduate Nursing Department at Florida International University. Dr. Glymph started his over 20 year career in nursing as a licensed practical nurse and continued to advanced practice Certified Registered Nurse Anesthetist.
Dr. Glymph received his Associate and Bachelor of Sciences degrees in Nursing from Norfolk State University, and his Master of Science and Doctor of Nurse Anesthesia Practice from Virginia Commonwealth University. He is currently pursuing his PhD in Nursing Science focusing on substance abuse and opioid use disorder patient outcomes at University of South Florida. Dr. Glymph is a Governor appointed member of the Florida Board of Nursing since 2015.
He also holds a staff appointment with Memorial Regional Medical Center. He has been involved in clinical practice, teaches in classroom, simulation center in the NWCNHS for nine years. In addition, Dr. Glymph holds the rank of Colonel in the United States Army Reserves and serves as Chief Anesthetist of the 7456th Medical Backfill Battalion, USAR. Dr. Glymph experiences include Operation Enduring Freedom in Afghanistan along with multiple leadership positions in the military.
Karen S. Kesten, DNP, APRN, CCNS, CNE, FAAN
Dr. Kesten is director of Doctor of Nursing Practice (DNP) Scholarly Projects and is an associate professor of nursing in the Acute and Chronic Care Community. She is licensed as an Advanced Practice Registered Nurse, a certified Acute and Critical Care Clinical Nurse Specialist, and a Certified Nurse Educator. Dr. Kesten served as the Director of Faculty Initiatives at the American Association of Colleges of Nursing and on the APRN Clinical Training Task Force, the AACN Competency-based Education for Doctoral Prepared APRN Work Group, the Implementation of the DNP Task Force, and the Task Force on Defining the Scholarship of Academic Nursing.
Dr. Kesten was an associate professor at Georgetown University and was the program director for the Adult-Gerontology Acute Care Nurse Practitioner and Clinical Nurse Specialist program. She played a critical role in the design, development, and launch of the graduate distance learning programs and the DNP program at Georgetown University. Dr. Kesten serves as a member of the National Task Force Reviewing and Revising the Criteria for Evaluation of Nurse Practitioner Programs, an accreditation evaluator for the Commission on Collegiate Nursing Education, and as Immediate-past Chair on the Board of Directors for the American Association of Critical-Care Nurses Certification Corporation. Dr. Kesten's research and publications focus on advanced nursing practice, competency-based education, and doctoral scholarship. Recently she published an article in Nursing Outlook on Mentoring students engaging in scholarly projects and dissertations in doctoral nursing programs. In 2019, Dr. Kesten received the Nursing Outlook Excellence in Nursing Education publication award from the American Academy of Nursing for her publication on Retirements and Succession of Nursing Faculty 2016-2025.
Orlin Márquez, DNP, MBA, FNP-BC
Dr. Orlin Márquez is a board-certified Family Nurse Practitioner. He earned a Bachelorof Science in Nursing from Brenau University in Gainesville, Georgia and a Master of Science in Nursing—Family Nurse Practitioner as well as a Doctor of Nursing Practice from Vanderbilt University in Nashville, Tennessee. He also has a Bachelor of Arts in Interpersonal and Organizational Communication from Toccoa Falls College in Georgia and a Master of Business Administration from Keller Graduate School of Management.
Currently, Dr. Márquez is a nurse practitioner at Walmart Healthcare Center in Suwanee, as well as at Premise Health in Atlanta. He has a passion for providing readily accessible and quality medical care for underserved populations as well as for the enhancing and strengthening of the nursing profession through the establishment of quality mentorship programs and mutually enriching preceptorship experiences.
Dr. Márquez is a member of the American Association of Nurse Practitioners (AANP), the UnitedAdvanced Practice Registered Nurses of Georgia (UAPRN)—Gwinnett/Forsyth chapter, Sigma Theta Tau International (STTI), National Association of Hispanic Nurses (NAHN), Medical Interpreter Network of Georgia (MING) and the National Council on Interpreting in Health Care (NCIHC). Over the years he has been involved in training and research for the delivery of Culturally and Linguistically Appropriate Care (CLAS) and has been invited to speak at national conferences including the Society of Gastroenterology Nurses and Associates (SGNA), the United Advanced Practice Registered Nurses of Georgia (UAPRN), the International Medical Interpreters Association (IMIA), and the Medical Interpreter Network of Georgia (MING).
Dr. Márquez lives in Buford, GA. He speaks fluent Spanish and Portuguese and is a nationally certified medical interpreter (CMI-Spanish). Presently he serves as the state secretary for UAPRN and as chairman of the organizational development committee for MING.
Nicole Palmore, MSW
Ms. Palmore is thrilled to join the DNPs of Color Advisory Committee. She is currently the Director of the Office of Diversity and Inclusion at the University of Maryland School of Nursing. Before this role, she was a Senior Organization and Employee Development Consultant with the University of Maryland Department of Human Resources. Over the past two decades, Nicole has designed, developed, and implemented numerous learning, organizational change, and diversity, equity, and inclusion (DEI) initiatives.   Nicole holds a bachelor's in psychology cum laude from Georgetown University and a master's in Social Work summa cum laude from the University of Maryland, Baltimore.  She completed a master's certificate in Instructional Design from the University of Maryland, Baltimore County.  Most recently, she completed a second master's certificate in Intercultural Leadership at the University of Maryland, Baltimore.  
Carol Washington, DNP, MS, MHA, RN, NEA-BC
Dr. Washington is director of health services for United Healthcare – Community and State in Richmond, Virginia. Dr. Washington has over 20 years of combined clinical and management experience in the community and private sector. Carol brings a well-established background of clinical leadership experience in ambulatory care and community healthcare development and operations, clinical quality improvement and outcomes measurement, project management, workflow analysis and redesign and group facilitation.
As a dedicated servant leader, she has demonstrated a commitment to the growth and development of people and the building of stronger, more just communities. That commitment has led her to serve as a Board Member for local, regional and national organizations such as the Advisory Board of Strayer University, DNPs of Color Advisory Committee, Cristo Rey Richmond Highschool, Bethany Christian Services Board of Directors, Richmond Forum, Black Healthcare Coalition and Planned Parenthood.
In addition to her director role, Carol actively serves as a personal mentor and clinical preceptor for nursing students at both the graduate and doctorate level. Her passion for educating and inspiring future healthcare leaders is only matched by her lifelong dedication to mitigating healthcare disparities among the most at-risk. Dr. Washington has been described as a transformational leader with unbridle compassion and a boundless desire to leave the world better.
Carol loves to spend quality time with her husband of 20 years, and their two daughters. She enjoys reading, painting and playing tennis.
Imelda Reyes, DNP, MPH, APRN, FAANP
Dr. Imelda Reyes is passionate about providing primary care to children and families and addressing the social determinants of health that impact so many of our communities.  Imelda is dual certified as a Pediatric and Family Nurse Practitioner fluent in Spanish. She has held clinical roles over the last 20 years in a variety of settings including serving in the US Navy. She is currently a Clinical Associate Professor at Emory University's Nell Hodgson Woodruff School of Nursing and maintains pediatric primary care practice with Children's Healthcare of Atlanta.