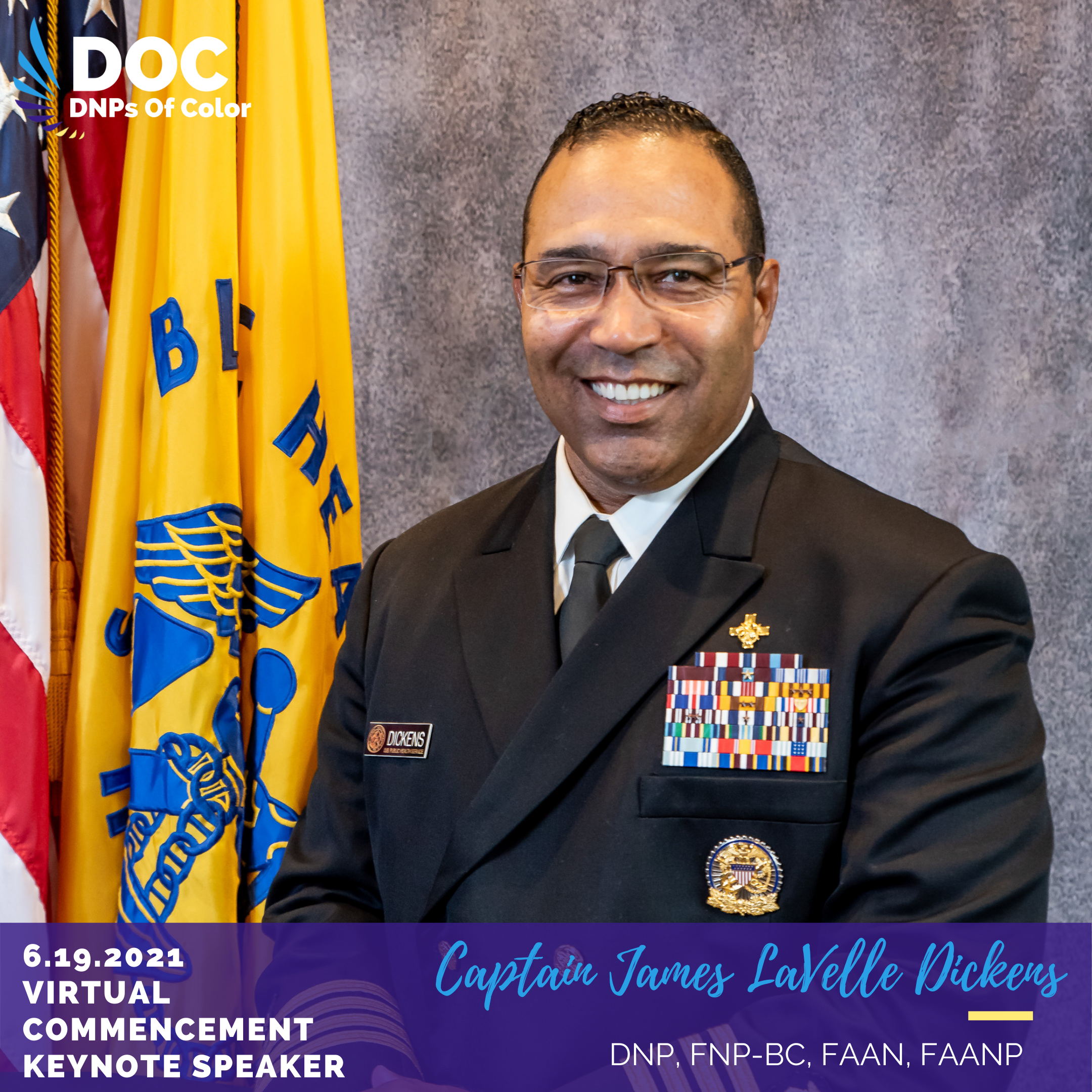 FOR IMMEDIATE RELEASE
Contact: Dr. Danielle McCamey, President
Email: docdnps@gmail.com
DNPs of Color Hosts Class of 2021 Virtual Commencement
ALEXANDRIA, VA (May 4, 2021) – DNPs of Color (DOCs) will be recognizing graduates on Juneteenth this year with its annual Virtual Commencement.
"The class of 2021 is embarking on an era of new hope for our future as a nation as we make strides with vaccination distribution and justice for racialized communities. From Emancipation Day, June 19, 1865 to Graduation Day, June 19, 2021, celebrating these DNPs of Color is a manifestation of our ancestors' wildest dreams" said Dr. Danielle McCamey, President and CEO of DOCs. "These DOCs join the one percent of nurses that have doctoral degrees. We are extremely proud to be part of this moment" said Dr. McCamey.
The Virtual Commencement keynote address will be delivered by Captain James LaVelle Dickens, DNP, FNP-BC, FAAN, FAANP. He currently serves in the U.S. Department of Health and Human Services, Centers for Medicare and Medicaid Services (CMS) Dallas as the Survey Operations Group Long Term Care Manager for five states. Captain Dickens is an experienced Board Certified Family Nurse Practitioner with over thirty years of federal and vast clinical healthcare experience. He currently serves as the American Association of Nurse Practitioners (AANP) Region 6 Director for Oklahoma, Arkansas, Louisiana and Texas.
"Given his passion for leadership, extraordinary service in nursing and to our nation, Captain Dickens was a natural choice to deliver our virtual commencement keynote, and we are grateful and honored that he accepted our invitation," said Dr. Ethlyn McQueen-Gibson, Vice President of DOCs. "We look forward to his message that will inspire and empower the new DNP graduates to transform the landscape of nursing" said Dr. McQueen-Gibson.
Graduates and viewers are welcome to attend on June 19th at 11am EDT. Register for the event at www.dnpsofcolor.org under events.
###
DNPs of Color (DOCs), is a 501c3 nonprofit nursing organization, whose mission is to serve Doctors of Nursing Practice of Color through networking, mentorship and advocacy to increase diversity in doctoral studies, clinical practice, and leadership. Visit our website www.dnpsofcolor.org and follow us on Facebook, Twitter, and Instagram @dnpsofcolor